I am back busy personal shopping with clients for the spring. Finally the sales rails are gone, and the stores are filling up with the new seasons must-have pieces. Here are some of my tips for how to add to your winder wardrobe and bring it into line with the spring trends.
Dresses
Dress choices go from ultra-feminine to exotic depending on the print (optical, tribal, bold), layers of ruffles, and fabrics. Dresses are belted at the waist or draped to accentuate a woman's curves. On the other end of the spectrum is the shirtwaist utilitarian khaki cotton dress or shirt dresses in crisp white.
This dress from Whistles (left), and incorporates a strong print, and a flattering drape.
Skirts
Although mini skirts will be popular with young women, find a more appropriate length in a modern pencil skirt. These can be found in fun prints, solid black or soft pastels. These are great to pair with a tucked in collared shirt or a ruffled blouse, tucked in with a narrow belt to finish the look.
Shorts
Sexy hotpants are in but who should be in them is the question. Right now, wear them with black opaque tights. When it gets warmer, unless you are a go-go dancer, explore other options as these are hard to pull off in real life! If shorts aren't your thing, look into a skirt or cropped pant.
Jackets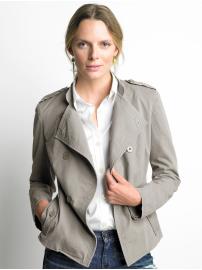 Military styled jackets in khaki or olive green - this one is from Banana Republic - are great with jeans or even pastel denim. Boyfriend jackets return for spring and are fresh over super feminine dresses and high wedges. Leather biker jackets add toughness to feminine ruffles and lace. Collarless jackets are very ladylike and great layered with longer blouses underneath. Cropped tailored jackets look great over long tshirts or tank top dresses.
Trousers
Pleated tapered cropped trousers can be found in natural colors as well as wild prints. Looser trousers are big on the catwalk and into our thoughts as the skinny look starts to fade. But wait! There's the legging! Leggings are a big trend but wear them properly. They can be worn under skirts or dresses. Do not wear them as if they were trousers.
Blouses
Find blouses in your favourite prints and pair with solid bottoms. Tops in billowy sheer fabrics are best layered with t-shirts or camisoles. Ruffles and bows cascade down the bodice of blouses in prints and solid colors.
Zara (left)has some gorgeous blouses in shades of nude and bronze in silk and very fine jersey.