Stuck for a new pair of sunnies this summer? We've chosen some of all shapes and sizes we think you'd look great in!
1. The Shape of the Season, £215 from net-a-porter.
Chances are you'll have seen Prada's Spring/Summer 2011 campaign by now and been entranced by those sunnies with that gorgeous curve detailing.. We think that they're the shape of the summer (much like how Prada set the standard with their rectangular Postcard sunnies last Spring/Summer season) - totally iconic and one of the more wearable high fashion pieces.
2. The Oversized, Glam Look, £72 from ASOS.
The oversized sunnie look has long been sported by boho-queen Nicole Richie and what with maxis being a huge hit this summer, we think this Eley Kishimoto pair are the perfect accompaniment. And if you needed any further cajoling, they're in the sale too down from £180!
3. The Rectangular, Casual Look, £132 from ASOS.
A classic shape for a casual, everyday look, we're huge fans of this Marc Jacobs two-tone pair of sunnies. Sure to go with anything and everything and last for more than one season, it's a sure-fire investment pair.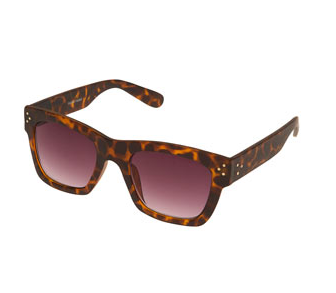 4. The Boxy, Edgy Look, £16 from Topshop.
For the trendsetting readers amongst you, we think you could rock these angular beauties from Topshop. At £16 it's our cheapest pick so you can afford to step out of your style comfort zone and try something new.