What better way to add something to an outfit than a gorgeous cocktail ring.A great way to dress up your favourite LBD and also fantastic worn with jeans to make your outfit stand out. Here are a few examples of rings that would compliment any outfit, and perfect for the party season that is approaching.
This gorgeous, elegant ring from Swarovski £130 is a fabulous black diamond cut ring. Sure to grab attention and make your outfit look stunning!
There are just too many beautiful rings to choose from at Swarovski and this one will add some bright colour to a black cocktail dress.
This ring is rhodium-plated with purple, indigo and a touch of turquoise!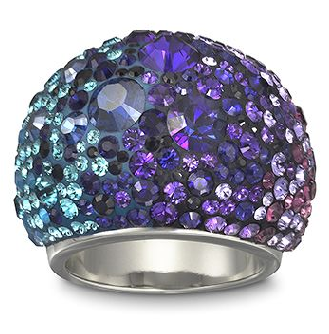 For a lower budget this Emerald green cocktail ring from French Connection £20 is ideal for wearing for all sorts of occasions!
Another gorgeous ring is this embellished brass ring from Alexander Mcqueen £295.
This ring is a great colour and in a pyramid style, also opens up to reveal an engraved skull!
To finish off here is another stunning ring from Swarovski £123.
This one is inspired by natural minerals and is embellished in light gold crystals, and will definitely add some glamour to an outfit.