Pleats in every form our a big trend for Spring and the shops are already hot on this. A great way to add texture to your wardrobe. Feminine and floaty pleats are a big hit for Spring. Weather a dress, skirt or pleated trousers there is a style to suit everyone.
Below from left to right: Chloé, Lanvin, Akris, Dior are all showcasing the pleat on the catwalk.
Chloé without a doubt showed varied styles in pleats and used soft natural tones, great designs to be inspired by.
For more colour, designer Christian Siriano really had some show stopping designs and was rocking the colour blocking trend.
Which ever is your most loved style there are plenty of designs on the high street to choose from, This summer with so many trends to look at, I think the pleat is one of the most wearable ones. Below a gorgeous pleated dress from Oasis £65, this dress is fitted at the waist and will create a nice silhouette. Team with wedges for summer. Also a hit with our previous post on candy colours for Spring!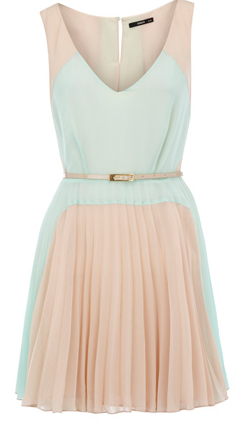 Another great item to follow this trend with is this pleated skirt from Topshop £49. Looks great with a skinny belt.